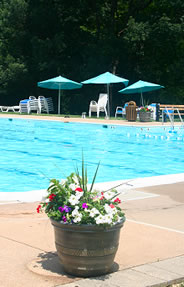 Frequently Asked Questions:
General
Membership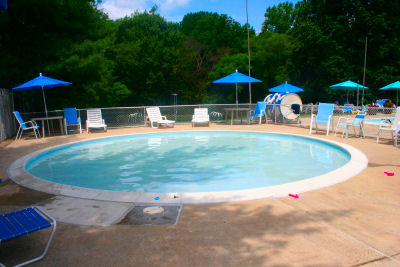 Facilities and Hours
SwimLessons
Swim Team
---
General: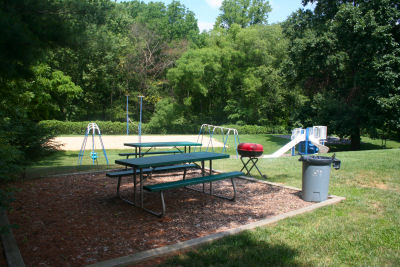 How do I get to the Club? [TOP]
The Club is located near the intersection of Sykesville Road (RT. 32) and Bennett/Johnsville Roads in Eldersburg/Sykesville, MD 21784.
The entrance is off Johnsville Road directly across from the Liberty High School water tower. Click here for Directions
How old do my children have to be to come to the pool by themselves? [TOP]
The Pool Rules specify that a child must be 12 years of age or older to come to the pool alone.
How do I get a replacement key fob? [TOP]
Replacement key fobs are available at a cost of $1.00 from the office.
How many key fob's does each family receive? [TOP]
Every family member 12 years of age and older needs to have his/her own key tag.
---
Membership: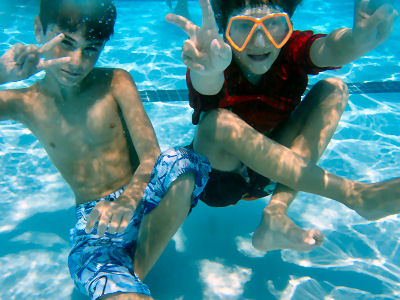 Where am I on the waiting list? [TOP]
The application at the top of our waiting list is shown on the Membership Page.
When must dues be paid? [TOP]
The dues request is sent around March 1st and must be paid in full by April 1st. After the April 1st deadline, a 10% late fee will be automatically assessed. Families that become members after the dues request has been sent must submit the dues payment along with the other fees. The membership offer letter will explain exactly what is needed at the time of membership purchase.
What are the rules concerning guests? [TOP]
Guest rules and guest fees are spelled out in the Pool and Ground Rules.
What are August Privileges and how can I participate? [TOP]
August Privileges is a program to allow families on our waiting list to have access to the Club from August 1st until the pool closes in September. The program is offered to those near the top of our waiting list and is limited to the first twenty-five families who express an interest in participating.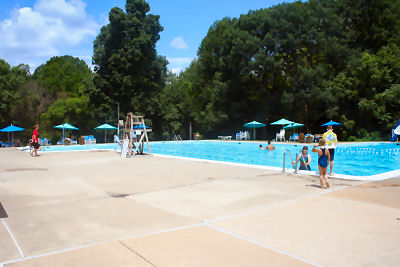 Do August Privileges include guest passes? [TOP]
Yes. Those participating in August Privileges Program receive six guest privileges.
What is a Member Emeritus/how can I become one? [TOP]
A Member Emeritus is a member in good standing who, having belonged to the Club for at least 20 years and is at least age 50, resigns his/her/their membership and surrenders the membership certificate that indicated partial ownership of the Club. Such members will be allowed to use the Club facilities and attend social activities as if they were members in good standing.
How many guest passes are available for Emeritus Members? [TOP]
Emeritus Members will be allowed to use the Club facilities as if they were members in good standing by paying the guest fee each time they enter the Club. These members will be allowed fifteen (15) visits per year. To illustrate how this will work in practice, the following examples are provided: (1) if a married couple of Emeritus Members comes to the pool together, their total fee would be the price of two guest tickets. Since in this example, both spouses are coming at the same time, their joint visit would count as one of the 15 visits allowed; (2) visits by individual Emeritus Members will also count as one of the 15 visits allowed.
What are guest fees for Emeritus Members?
Guest rules and guest fees are spelled out in the Pool and Ground Rules.
---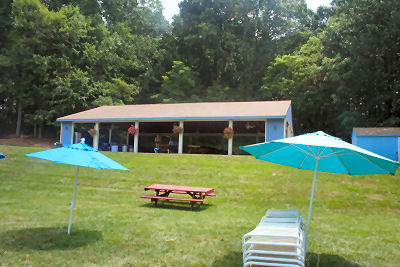 Facilities and Hours:


When is the pool open? [TOP]
The Club is open from Memorial Day weekend until Labor Day. During the summer the pool is open from noon until 9 P.M. When school is in session and in August, the operating hours will be as posted on the Home page.
Can I reserve the pavilion for a party? [TOP]
Yes. Go to the office to make the reservation. Please fill out the Pool Party Contract which is available on the Home page.
What are the procedures when a thunderstorm is approaching? [TOP]
The staff monitors weather conditions with the aid of a weather alert radio. The pool is closed at the first sound of thunder and remains closed for at least 30 minutes after the last sound of thunder. Everyone is requested to leave the pool property when the pool is closed for weather as there is no location at the pool that is safe from lightening.
---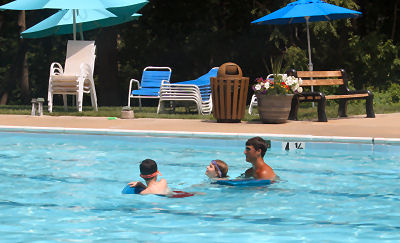 Swim Lessons:


Are swim lessons offered at the Club? [TOP]
Yes. We offer three two-week session of group lessons. There are morning and afternoon time slots available. Each session consists of six thirty minute lessons. Swim Lesson Information can be downloaded from the Home page.
How do I sign up? [TOP]
Stop by the office or see the pool manager on duty for more information.
Are private lessons available? [TOP]
Yes. If our group lessons do not fit your schedule, you can speak with any of the lifeguards who teach lessons to set up a private lesson at your convenience.
---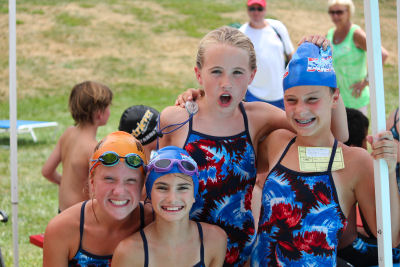 Swim Team:


What are the goals of the Dolphin Swim Team? [TOP]
The Freedom Dolphins Swim Team has three equally important goals: to strive to improve, both as individual swimmers and as a team; to foster team spirit and good sportsmanship; and to form friendships and have fun. The guiding principle of the team is simple: It's all about the swimmers! Whether you are returning year-rounder, looking forward to moving up to the next age group, or just trying team swimming for the first time, the Freedom Dolphins want you to swim for us.
Who can join the Dolphin Swim Team? [TOP]
In order to join the Dolphins Swim Team a swimmer must be part of a Freedom Swim Club full-family membership, must be able to swim across the diving well without assistance and is expected to participate in two meets during the season. Six and under swimmers may have a Junior Coach assist them during meets. Swimmers are encouraged to complete swim lessons before joining the team.
Whendoes swim team practice take place? [TOP]
Pre-season practices (1st Wednesday after Memorial Day until the end of school) will run in one session Monday - Friday; 5:30 to 7:00pm. Because this is a very hectic time of year due to school and other spring commitments the emphasis during practice will be to improve endurance. Swimmers are encouraged to attend the practice that works best with their schedules. Coaches will divide swimmers based on age and ability.
Once the regular season begins, and until the last full week of July, swim practices will be divided by age.
In Season Practice times Monday-Friday* are:
13 - 18 swimmers:
9:00 - 10:15 AM
9-12 swimmers:
10:15 - 11:15 AM
8 and under swimmers:
11:15 - 12:00 AM
*Practice times may change on Fridays.
Please note these age groups and times may change based on ability and the number of swimmers.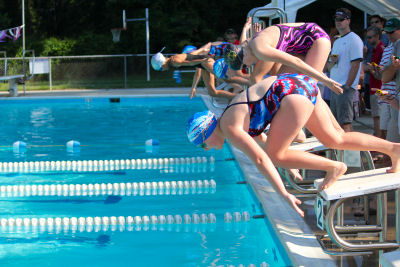 What meets do the team participate in? [TOP]
The Dolphins will swim in five Central Maryland Swim League (CMSL) meets. Time trials (a mock meet to get an idea of the swimmers individual times) will be against South Carroll. Swimmers may participate in the CMSL Divisional Championships, Staehle Invitational, or Carroll County Jr. Championship Meet depending on their qualifications. Swimmers are expected to swim in two dual meets in order to be on the team. Swim meets serve as a means for swimmers to evaluate how well they are achieving their individual goals and they also offer parents and friends the opportunity to see how well the swimmers are progressing.
Are parents required to volunteer at meets? [TOP]
Swim meets at home and away require parent voluteers. Swimming is not a spectator sport for parents. Home meets require set up and clean up in addition to running the meet. The team requires that each family sign-up for a minimum of 4 meet volunteer positions before swimmers are able to participate on the team. The team has two evening pep rallies scheduled before home meets. Families contribute food items and set up for the meet the following day.
How do I join the swim team? [TOP]
Registration takes place in April. If you need additional information please contact Andrea Thornton.